In the first of our monthly round-ups, here are some interesting articles from the world of health and fitness that have grabbed our interest. Why side-planks are a simple but incredibly effective exercise, foods for better sleep, injury avoidance advice for runners, another reason to drink that glass of red wine (guilt-free) and more. And in a big March for us – very happy to receive the certificate of excellence in Cancer Touch Therapy.
11 foods that help you sleep better
Not just the boring food – dark chocolate and 10 other foods that could help with your sleep patterns – and you may even enjoy them!
Skip the guilt: Red wine could protect your oral health
If you're scared that your nightly glass of red wine will eventually cause your teeth to rot, that's a worry that you can dispel right now. A new study from Spain suggests that red wine compounds may actually do your oral health a world of good!
NHS Launches Multi-Million Pound Scheme For Veterans Suffering Mental Health Issues
A new service by NHS England will provide support for those suffering from the most complex problems, from substance misuse to trauma.
Cancer Touch Therapy – Certificate of Excellence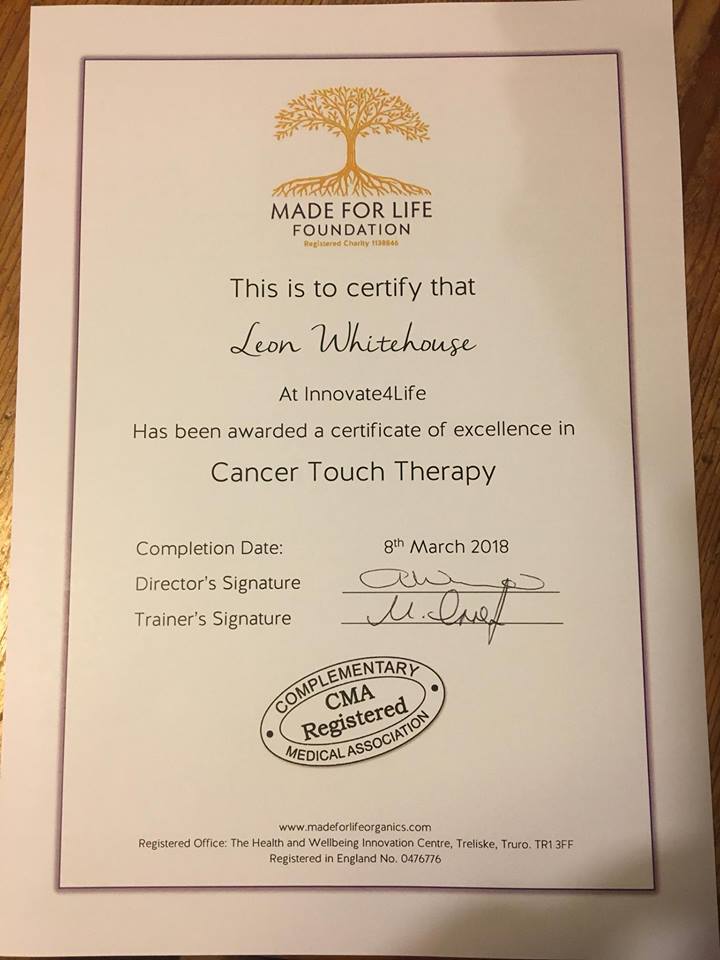 Picked up this little gem on 7th March 2018 – the certificate of excellence in Cancer Touch Therapy. Can't wait to launch this treatment, making Innovate4life one of the few places in Cornwall to offer hands on treatments for people living with cancer.
Side Planks for Core Stability & Power from the Hips
Elderly people with dementia need more physical activity
I keep hearing this from varying sources. Yet last year I tried to start a study to look at the effects exercise would have. No societies attached to dementia have any exercise programs in place or were interested in this research proposal. Hmmm?
Runner's Prehab Checklist – The Quick Reference Guide For Recreational Runners
More great advice from The Prehab Guys: or the new and experienced recreational runners, this is a reference guide with biomechanical information to check and optimize your movement system for running. Be sure to add these exercises to your training routine to protect your body in helping you run!
6 Quick Breakfasts That Are Much Healthier Than an Egg McMuffin
For a great start to the day!
Jonny Wilkinson, England rugby hero, opens up on mental health problems
Proving to be a huge subject across so many fields of interest at the moment. Even the most successful of athletes can be susceptible…