Leon at Innovate4Life is one of the few certified professionals for Cancer Touch Therapy in Cornwall.

All these treatments, created by the Made for Life Foundation, are suitable for people diagnosed with or recovering from cancer.
The treatments are available at the Health & Wellbeing Innovation Centre adjacent to Treliske Hospital in Truro or at a studio based in Hayle, and free parking is available at both locations.
Made for Life Wellness treatments provide a window of time to disconnect from daily stress and reconnect with nature and stillness. Akin to a period of meditation, they allow your body to access the parasympathetic state where mind and body are prompted into a 'state of allowing'.
This period of time allows rejuvenation on many levels – mind, body and emotion – including a natural boost to immunity.
Touch Therapy – Deeply Relaxing Touch to Face or Body – 55 mins / 25 mins
This is an exceptionally relaxing series of slow, soothing movements that are tailored to your needs.
It offers soothing and nurturing touch to full body or part body. Touch Therapy induces a deep sense of relaxation, enabling you to find peace and enjoy the present moment.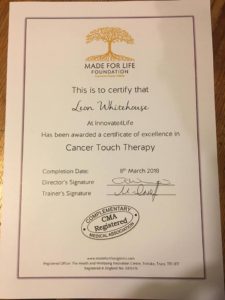 Hand on Heart™ – Back, Face & Scalp Treatment – 85 mins / 55 mins
This nurturing and calming treatment for the head, face, shoulders and back was created to allow you to drift away into a relaxing, meditative state. Slow Tui Na Chinese movements re-balance and calm your upper body, while the facial will replenish, nourish and revive the skin, easing tension. This ritual involves slow, soothing, rhythmic techniques to provide deep relaxation and complete tranquility. 100% certified organic Made for Life products nourish and protect.
Catch the Breath® – Back and Head Treatment – 25 mins
This nurturing gentle treatment for the head, shoulders and back allows you to drift into a meditative state of relaxation. Slow Tui Na Chinese massage techniques are used to re-balance and calm the upper body. The ritual uses slow, soothing and rhythmic techniques to providing complete tranquillity and relaxation. 100% certified organic Made for Life products by Spiezia.
Soothe & Nurture™ – Organic Facial – 25 mins
A beautiful way to restore natural luminosity to the skin, this treatment leaves you looking and feeling radiant. 100% organic balms and oils nourish and cleanse, eliminating congestion and returning natural balance to the skin. The deeply relaxing face and scalp massage calms the mind and soothes the soul.
Cancer Touch Therapy is a set of treatments created by the Made for Life Foundation to be suitable for people going through cancer, and are available from Innovate4Life in Truro or Hayle. All the above treatments use Made for Life 100% organic preparations and a range of specialised relaxation techniques.

Get in touch with Innovate4Life & find out more
about Cancer Touch Therapy in Truro & Hayle – call Leon on
07403 826343 or send an email to leon@innovate4life.co.uk